How to use Monday – Production's task manager

How to add a pulse: a task to Monday
Find the board, WORK IN PRODUCTION. This is the shared board for production tasks. Within the board are the groups that hold tasks.
Create a NEW PULSE: a task in Monday
Assign a TAG:  what area of the business i.e. SS is Spotlight Report
Assign your name logging the task as the PERSON: not the person that will do the work
Mark the PRIORITY of the task
List the STATUS of the task. i.e. brief in, when you are uploading your populated brief
Note, when a task is completed the status is changed to 'Done ready for review' and will automatically be moved to the 'Waiting Approval' group.
If changes are to be made, change the status accordingly to 'Changes required' and move the task back to the 'Design & Web jobs in progress' group
It's important that you list the DUE DATE (the date you want to publish the content or send the edm)
Move the task to the relevant GROUP (see the groups defined below)
When a task is finished archive the task (see screenshots on how to do that below)
See the listed actions 1 – 7 in the image
How to Archive tasks
Find the task you want to archive
Click to the left of the line where you see an upside down triangle
Click the triangle to reveal a drop-down option
Scroll to the archive option and click
Your task is now archived
How to find Archived tasks
At the top of the browser, find a search tool
Enter the reference you are looking for i.e. Site updates
Click the box ' Search archives'

How to Re-activate an archived task (pulse)
Go to the top right corner of the browser to find the hamburger
Click the hamburger and a drop down will appear
Find the words Archived Pulses / Groups and click on it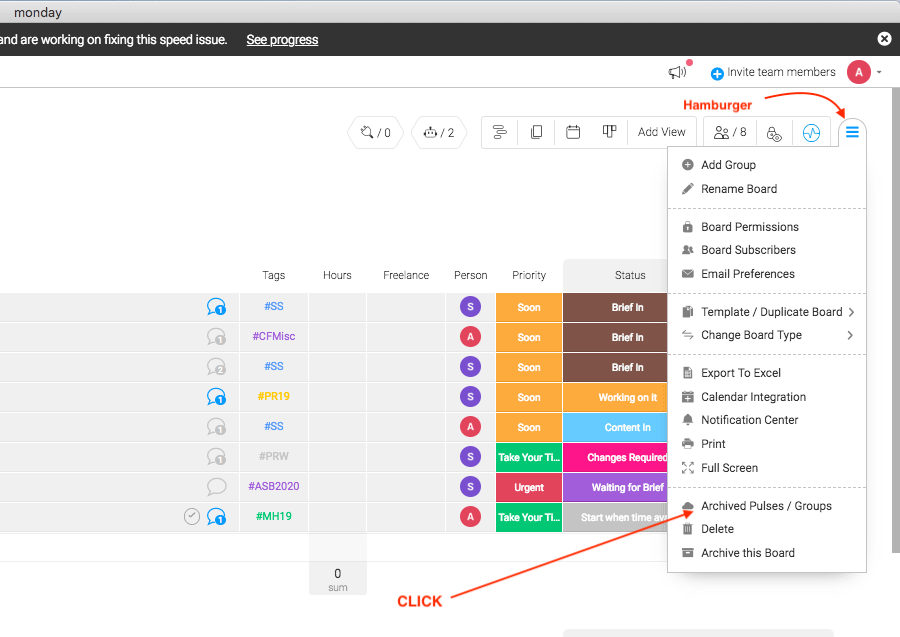 In the search bar enter the task (pulse name ) you are looking for
When you find the task, click the restore button
The pulse will appear in the board it was created in

The Groups Defined
Groups sit within a board and the groups can be updated to reflect the work within production
Design & Web jobs in progress: Tasks that require design and or web work.
This work area is for design, Nick G and freelance.
PR & CF Solus EDMs:  Tasks where content is supplied by the client, no design work required.
This work area is for production coordinator, Nat.
Waiting Approvals: The task has been completed and is waiting for approval by the person that logged the task.
Tasks on the Radar: A holding bay for tasks that need to be done but content or brief is not ready yet.